Everything You Need to Know About Word CV Templates
Recruiters and employers alike receive hundreds of CVs every day. Getting them to notice you is tough, and providing a CV they can open and quickly scan is vital. A high-quality Word CV template makes a professional impression that helps you to stand out.
Learn how to choose and use a Word CV template to build your own perfect CV.
How Our Word CV Templates Tackle ATS
Recruiters are too busy to filter CVs manually. They use Applicant Tracking Software (ATS) to automate the filtering and create candidate shortlists. But according to a recent survey 62% of ATS users admit that some qualified candidates are automatically filtered out.
We've built all our Word CV templates to work with ATS, helping you to avoid weaknesses in other CV templates such as:
Using a font, bullet points, or graphics that the ATS can't read.
Formatting like tables or spacing that makes content illegible.
Over- or under-using keywords.
30 Professional UK Word CV Templates
Kickstart your career with professional Word CV templates. Structured in a way that's both easy to read and ATS friendly, our templates make it quick and easy to produce a customised CV that potential employers will love.
5 Reasons to Use Our Microsoft Word CV Templates & CV Builder
1. It's easy
How many hours have you already wasted trying to tweak your CV to fit on two pages? Our CV builder has been designed to eliminate formatting frustrations, making it quick and easy to build - or edit - your CV.
2. No formatting required
Our CV builder automatically handles all the formatting for you, so you can focus on the content.
3. Save time
It's a competitive job market and you don't have time to waste. Use our online CV builder anywhere, anytime, and from any device. It's never been quicker to build or tailor your CV in response to a new career opportunity.
4. Find your CV quickly
Give up hunting through folders or devices for your CV - our builder can store every single version you save, all in one convenient place.
5. Gain competitive advantage
Hiring managers are on the lookout for great applications. A professional MS Word CV screams 'perfect candidate', helping you to stand out above the competition.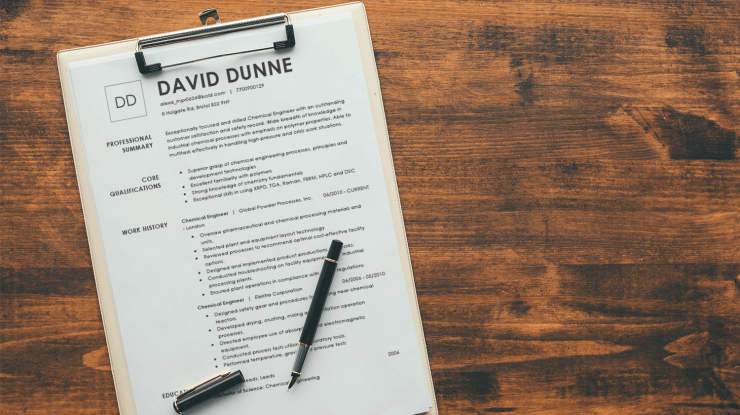 10 Popular UK Word CV Templates
With over a decade's experience helping candidates around the world to build perfect CVs, we know a thing or two about CV templates. That's why all our CV templates are Word-compatible. Want to find one that's right for you? Here are 10 of the UK's most popular:
3 Common Questions That UK Jobseekers Ask
Many jobseekers need support with creating a MS Word CV. We've listed some commonly asked questions on the subject to get you started.
How do you get a CV template on Microsoft Word?
There are many ways you to get a MS Word CV template. Two popular way are:
Using our online CV builder, which includes free use of a range of CV templates that are compatible with Word.
Searching for a Word CV template based on the job you're applying for.
How can I make a CV in MS Word?
To make a CV in MS Word you need to:
How can I make my MS Word CV ATS friendly?
If you want your CV to be ATS friendly, make sure that it:
Is saved as a universal .doc or PDF file.
Includes the important keywords early on and throughout.
Doesn't use serif fonts like Times New Roman, which are often missed by ATS.
Is easy to read, without any complex tables or media.
Only uses rounded bullet points, formatted correctly.
Want to Design Your Own Word CV Template? Think Again!
Even if you're an expert in the job you're applying for, chances are you're not an expert at designing a MS Word CV. Here are more reasons why designing your own Word CV template isn't a great idea:
It can be difficult to get everything on two pages.
There are ATS non-compliant features you may not be aware of.
The document may not be compatible with new versions of Word.
Other candidates will be using professional templates that stand out.
Eliminate common CV mistakes
Even if have good intentions, a homemade template leaves you open to errors that will kill your applications. According to career experts, key reasons CVs don't make the shortlist are:
Spelling mistakes: 71%
Irrelevant skills: 40.6%
Being longer than 2 pages: 16.1%
Including a photo: 14.2%
Being too creative: 12.9%
Using a Word CV template in our online CV builder helps you to avoid these costly mistakes. With sample text and step-by-step tips and advice, we'll guide you to build a CV that's relevant for the role and showcases your strengths.
How to Choose the Best Word CV Template: 9 Top Tips
Job hunting is tough. Writing your CV and finding the best free Microsoft CV template can be even tougher. Let us make it easy with our 9 top tips on how to choose the right Microsoft Word CV template for you.
Look for something role-specific
Whether you're applying for a job in Marketing or applying for your first job in Legal, you need an appropriate template. We have loads of MS Word templates, covering almost every role you can imagine.
Get expert advice
Anyone can tell you how to write a CV - but if you want to succeed, ask the experts! With over a decade's experience helping candidates all around the world, we know a few things about picking the right MS Word CV template. Start by checking out our 30 most popular CV templates, then jump into our CV builder to explore more.
Match the template to the employer
Your CV should be appropriate for your potential employer and their industry.
Choose one that's easy to read
Recruiters skim read, so find a CV template that makes it quick and easy for them to find key data points. Think about clear section headings, short paragraphs, bullet points, and a font that isn't too fancy.
Find a Word CV template formatted to fit on two pages
Long CVs usually show an inability to get to the point. Your CV should max out at 2 sides of A4 - no more, or employers will discard it. Look for Word CV templates that are just 1-2 pages long.
Look for a legible font
Clear, easy-to-read typefaces like Arial, Calibri, and Cambria are a safe bet. Bear in mind that many elaborate fonts aren't standard, meaning your CV formatting will break and prospective employers will either see gobbledegook, or everyone's least favourite font; Times New Roman.
Choose a template with a logical structure
The standard CV structure is, well, standard - so unless you have a really compelling reason to change things up, stick to what works. That means contact details in the header, then a personal statement, your work history, skills, and then education.
Avoid over-complicated designs
The best Microsoft Word CV templates are simple. Don't be tempted by a desire to show off personal flair or your own design skills - keep it simple and save the artwork for your portfolio.
Learn from your peers
See what your peers are doing - check out our Microsoft Word CV samples. Not only are there plenty of designs, but you'll also have the opportunity to see what they're writing and the tone they're using.
Our Word CV Templates Can Shift Writer's Block
One of the main reasons people struggle to write their CV is that it's difficult to talk about yourself confidently without feeling like you sound arrogant. Add the pressure to impress hiring managers and it's no wonder that you run into writer's block.
Here are 4 ways a Word CV template can help shift writer's block and enable you to make progress with your job search:
Industry-specific templates help you focus.
Pre-written example text gives you inspiration.
CV examples will give you insight into what your peers are doing.
Proven templates will boost your confidence to persevere.
Need a little extra help? Check out our guide on how to write a CV.
Get the Interview With a Word CV Template
It's easy to get frustrated when you're looking for a job without much success, but you're not alone. Only the top 2% of candidates are invited to interview.
Your best weapon in the battle for the interview? One of our readymade Word CV templates. Built to work with ATS filters, you'll quickly land on the top of the pile.
When it comes to hiring managers, first impressions count - and an attractive layout, clear header, and a sprinkling of bullet points will do wonders. Add in a strong structure that balances work experience, skills, and a personal statement and they won't want to stop reading.
What are you waiting for?
Find the perfect Word CV template for the job you want, then build your CV! There's no quicker, easier way to take the next step in your career.