The business world is now more competitive than ever before. Not only are applicants expected to display high levels of talent and motivation, but also the ability to present themselves professionally. This can be a bit tricky; particularly if you are competing against a large pool of applicants. A properly formatted CV can make all of the difference in the world between securing a rewarding position and being passed over in favour of another candidate. The business CV example found below is a useful guide to follow when creating a well-written presentation and an ideal starting point for those looking to break into the competitive business world.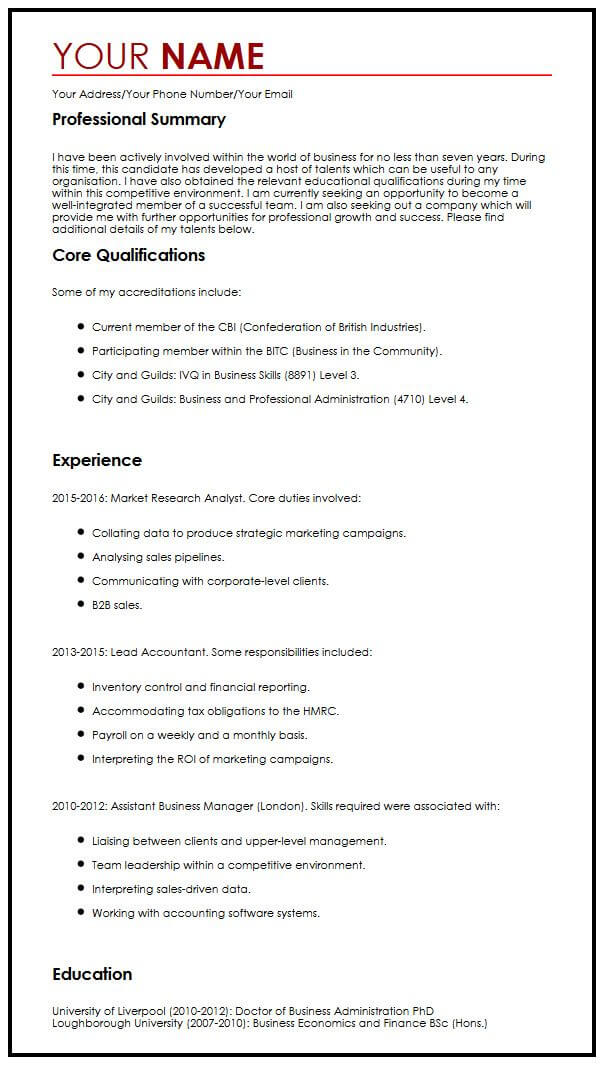 Your Address/Your Phone Number/Your Email
Professional Summary
I have been actively involved within the world of business for no less than seven years. During this time, this candidate has developed a host of talents which can be useful to any organisation. I have also obtained the relevant educational qualifications during my time within this competitive environment. I am currently seeking an opportunity to become a well-integrated member of a successful team. I am also seeking out a company which will provide me with further opportunities for professional growth and success. Please find additional details of my talents below.
Core Qualifications
Some of my accreditations include:
Current member of the CBI (Confederation of British Industries).
Participating member within the BITC (Business in the Community).
City and Guilds: IVQ in Business Skills (8891) Level 3.
City and Guilds: Business and Professional Administration (4710) Level 4.
Experience
2015-2016: Market Research Analyst.Core duties involved:
Collating data to produce strategic marketing campaigns.
Analysing sales pipelines.
Communicating with corporate-level clients.
B2B sales.
2013-2015: Lead Accountant.Some responsibilities included:
Inventory control and financial reporting.
Accommodating tax obligations to the HMRC.
Payroll on a weekly and a monthly basis.
Interpreting the ROI of marketing campaigns.
2010-2012: Assistant Business Manager (London).Skills required were associated with:
Liaising between clients and upper-level management.
Team leadership within a competitive environment.
Interpreting sales-driven data.
Working with accounting software systems.
Education
University of Liverpool (2010-2012): Doctor of Business Administration PhD Loughborough University (2007-2010): Business Economics and Finance BSc (Hons.)
Conclusion
As we have just seen, this business CV example illustrates the talents of the applicant as well as his or her unique motivations. As this is just a rough template, we recommend checking out the countless other samples on our site.