CV Examples Make Your Job Search Quicker and Easier
A CV, or curriculum vitae, is often the first impression an employer will have of you. Our CV examples help to make CV writing quick and easy, by showing you what successful CVs look like.
Recruiters spend an average of just 6 seconds reading a CV before they decide to keep or discard it. The right CV examples will help you to build a CV that recruiters want to keep reading.
2 Common Questions About CV Examples
How do I write a good CV?
Write a good CV by:
Keeping the layout simple: Most recruiters receive hundreds, possibly thousands, of CVs from applicants each week. So your layout needs to be clear and easy to read.
Using a CV example to guide you: Don't struggle to write a CV, look at available CV examples so you know what's recommended.
Spending time on it: Take time to create a CV you're proud of.
Using a CV builder: Get help from our expert CV builder to build a professional looking CV.
What should you include in a CV?
Here's what you should include in a CV:
Personal details: Your name, address, and contact details.
Personal statement: A short, concise overview of your career and ambitions.
Why you're right for the job: Content about your work experience and skills, customised for the role you're applying for. Highlight and quantify key achievements in a clear way.
Your education & qualifications: Include relevant degrees and certificates, and where and when you obtained them.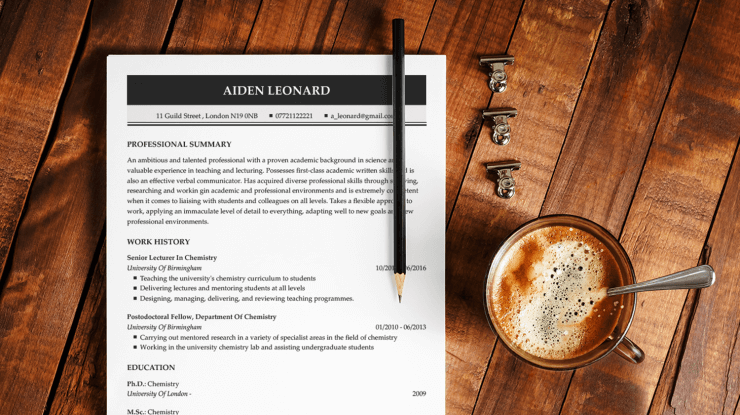 How CV Examples Can Help You
It can be difficult to strike the balance between showing employers what you can do, and showing off. CV examples help you to see how your peers have succeeded in doing this and give you inspiration as you build your own CV.
CV examples are particularly helpful with:
Layout:

Laying out the information correctly is essential, and other CVs give good guidance, especially if it's industry-specific.

Guidelines on writing style:

See the tone and writing style, including how achievements are expressed.

What your peers are saying:

Not only what they say - but also what they don't (like complaints about former employers).

Motivation:

Just seeing something someone else has written can be really motivating. Having access to a successful CV example can give you a big boost when writing your own CV.
What Recruiters Look For in a CV
A CV is all about convincing the recruiter that you're the ideal candidate for the role. It needs to be clear and concise. Your CV layout must allow potential employers to quickly skim and find key information.
Recruiters are also looking for a CV that shows attention to detail. But they're not just looking for a CV that's been proofread and is free of spelling mistake. They're also looking for evidence that you've customised the content for the specific role.
The structure potential employers are looking for is:
Personal details
These include your first and last name, mobile number, address, and email. Even if an employer likes your CV they can't get in touch with you without these details, so don't leave them off!
Personal statement
A personal statement should give a brilliant first impression and entice the recruiter to keep reading. There's a lot to pack into 2-3 sentences! Here's what employers are looking for in this section:
Your experience: Employers need to quickly understand your expertise in the sector.
Your credentials: Key qualifications that make you a perfect match.
Length of experience: If you've been in sales for 15 years, then say it!
Personality: Give a sense of what it's like to work with you.
Skills
Be clear about the relevant skills you have, whether job-related like use of specific software, or softer skills like communication and teamwork.
Use keywords that relate to the job description and highlight the ways that your skills fit this.
Be honest and genuine, but exclude cliches like saying that you're hardworking or reliable. 
When you have a list of skills, use bullet points to make this section easy to skim read.
Employment history
List your employment in reverse chronological order. Consider whether you want to exclude any roles that aren't relevant. Be clear about what you've done and customise what you write to match the role you're applying for.
Education
List your education reverse chronologically, starting with your most recent qualifications first. If you have university qualifications or have been working for more than 10 years, it's not necessary to state grades from secondary school.
Hobbies and interests
The hobbies and interests section is not a requirement, and often comes last in a CV. If you don't have space it's fine to exclude it.
References
This section is also optional. In many cases, people simply write 'References available upon request'. If an employer specifically asks for references, include 2-3 contacts, making sure you have their permission to be contacted.
Find Great UK CV Examples
There are lots of CV examples out there but many of them are poor quality. And if you're using examples for inspiration, you need to know that you're looking at the very best.
With over a decade of experience in helping millions of candidates worldwide, we know what makes a great CV example.
A great CV example shows you the CV template, layout, and content. It gives you a clear idea of what to say and how to structure it.
Where can you find great UK CV examples?
Look for sites with a broad mix of examples, including roles that are identical or very similar to the one you're applying for.
Look for sites that don't just scrape CVs from the Internet, but that offer complementary tools like CV templates and builders. And most importantly, look for sites that have significant experience in helping jobseekers to create CVs.
Build a Perfect CV
A strong CV is the number one way to stand out to a prospective employer. Our CV examples will help you find inspiration. Then all you need to do is start using our CV builder and you'll have a personalised CV in minutes.