How CV Examples Make Your Job Search Quicker and Easier ?
A CV, or curriculum vitae, is often the first impression an employer will have of you. Therefore, it's important that you know how to list your achievements, give an overview of yourself and use the right layout to attract attention.
Writing a CV can be difficult, so using CV examples can be really helpful. A well-written CV can help you impress recruiters. Ensure that you stand out by using a CV example to craft your CV.
It's important to never copy a CV, but to take inspiration from the style and layout of the CV examples to incorporate that into your own.
Recruiters spend 6 seconds on average browsing a CV before they make a decision on whether the person will make a good fit for the role. We provide CV examples to make sure you have all the resources you need to build the perfect CV and help you land that dream role.
Popular CV Examples You Can Use
2 Common Questions From UK Job Applicants
1.
How do I write a good CV?
Write a good CV by:
Keeping the layout simple: Most recruiters receive hundreds, possibly thousands of CVs from applicants each week - the average number of applicants per role is 250. So your layout needs to be obvious and easy to read.
Using a CV example to guide you: Don't try to do it alone. If you're struggling to start the process, take a look at our CV examples so you know what is recommended.
Spending time on it: take time to create a CV you're proud of. This might involve using a service to assist you.
Using a CV builder: if you need a helping hand and want to write a good CV, consider using a CV builder.
2.
What should you include in a CV?
Here's what you should include in a CV:
Personal details: they need to know your location, age, address and current role, so make this obvious for them.
Personal statement: the reader wants to get a quick and concise overview of you as a person. Therefore, it's important that you go straight in with an overview of yourself in the opening statement.
Why you're right for the job: if you have the same CV for every role you apply to, you won't get very far. Tailor each CV to the job you're applying for, and you should have a lot more luck. State why you're right for the role and what you can bring, so that the recruiter doesn't have to scour through.
Your qualifications: If you don't let the recruiter know your qualifications and credentials then they will struggle to assess you against the competition and throw your CV in the bin. Don't let that happen to your CV! Make it easy for them by adding your qualifications in early.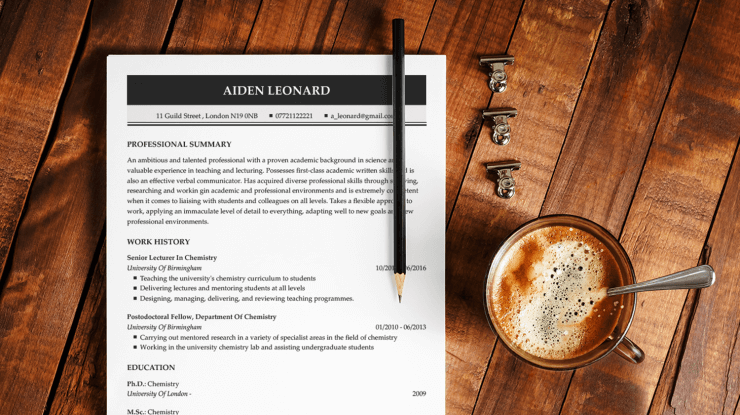 How CV Examples Can Help You
CV examples can be really helpful if you're looking for a job and thinking about writing your own CV. It's sometimes hard to strike the balance between showing the employer what you can do and showing off. So, in order to put your best foot forward, a CV example can help guide you as you write your own CV. Here are the top ways that an online CV example can help you write your own CV.
Helping with the layout:

Laying out the information correctly is essential. It can be helpful to look at a CV for guidance, especially if it's industry specific. Use a CV example to find out where address, personal details, qualifications and a personal statement go.  A CV template can help you visualise how the information should look.

Giving hints on what to write:

CV examples are great at helping you understand the tone and style of CV writing. A CV example can guide you to write the information about yourself that will make you stand out.

Seeing what your peers are writing:

it's helpful to look at CV examples to see what your peers and potential competition are writing. This is especially true if the CV is relating to the same industry that you're going for a role in.

General motivation:

sometimes just seeing something someone else has written can be really motivating. Having an example that you know has been successful can give you a boost when writing your own CV.
What Recruiters Look For in a CV
A CV is all about telling the potential recruiter about yourself, but you don't want to babble aimlessly. It's crucial that you meet recruiters' expectations when they read your CV and offer what they're looking for. There are a few things that every recruiter expects from a CV, regardless of the industry or role.
It's essential that you hand the recruiter a professional looking document that has allows the recruiter to skim read quickly. As we mentioned, there are only 6 seconds to really impress the recruiter, so make sure it's easy to read. Check your work thoroughly to ensure that there are no typos or spelling errors - lots of recruiters will turn you down immediately on this basis alone. The content should be compelling, confident and full of information.
The below structure is what a recruiter will expect to see in your CV, and gives a conventional order that you can follow. This will ensure you get all of the information in, without overloading the recruiter.
Before you go straight in to talking about yourself and your best qualities, you need to give the recruiter your personal details. These should include full name, number, email and address or location. CV's without this information are often tossed aside, not to mention that if the employer does like what they see and you haven't left details - they can't contact you.
Be sure to leave your personal details in the top header section of the page or top left or right hand corner so that it's clear. This is the first stage of any CV and shows the recruiter that you're professional and easily contactable.
This is the part where you get to show off to the recruiter and match yourself to the job description. You might want to write a generic one to start off with, and then go on to customise that to each job as you see fit. A personal statement should give a brilliant first impression and entice the recruiter to keep reading. Here's what they're looking for in this section:
Your experience: the recruiter wants to be able to quickly decide whether you're right for the job, so mentioning what sector and roles you fit is a must.
Your credentials: you need to show them that you're qualified for the role. If you have a specific qualification that fits the role perfectly, then list it now.
Say how long you've been doing it: If you've been in sales for 15 years then say it. Equally, if you're changing career direction and have only been in the industry for a little while, say that too.
Personality: a personal statement needs to give a clear overview of who you are as a person. Let your personality shine through.
Remember: although there is a lot to fit in, you don't want your personal statement to be too long. A concise, short snippet that includes the above is ideal. Aim for two or three sentences. Your CV shouldn't be longer than two pages, since nearly half of all CVs that are more than two pages long are discarded according to recruitment specialists.
In this section, you need to be clear about what key skills you have and how you're perfect for the role. It helps to lay out your best attributes in bullet points so that you can make the information easy to skim. Use keywords that relate to the job description, and highlight the ways that your skills fit this. This will allow the recruiter to see how you would fit into the role and will help relate your key skills to the job.
Try to add things that are going to make you stand out. Saying that you're hardworking or reliable is great - but everyone says it. You want to make sure that you're honest and genuine in this section. Have a good think about what your key skills truly are, and use this section to show off your key skills.
Employment history is very important to most employers, as it's this section that will determine how well suited you really are to the role. Be clear about what you've done, and use this section to tailor your experience to the job you're applying for.
You might not have the most relevant experience, but if you can use what you've done before to make you seem like an ideal candidate, then this will work in your favour. Always list your experience in chronological order, starting with the most recent first. Try not to include experience that is irrelevant to the role. In most cases 3-4 is the perfect number of jobs to list under employment history.
Education isn't always as important as other parts of a CV, however listing it correctly is. Ensure that you list your education chronologically, starting with your most recent school, college or university first.
Always make sure that you state your grades clearly, so that the recruiter can see what you got for each subject. That being said, it's not essential for you to list every GCSE you got and state the grade. Remember that keeping it relevant is crucial - the recruiter doesn't have much time to decide whether you're a yes or a no.
The hobbies and interests section is optional and often comes last. It's not as important as other sections of your CV as it doesn't relate to your career directly. That being said the section can be really helpful if you want to give the employer a good understanding of your personality. Sports are usually viewed positively, so make sure you list any sports you're done in recent years. Arts are also positive, and volunteer work looks great too.
Be honest about what you enjoy doing in your free time, and try to relate your hobbies and interests to the job. If you can use key words from the job description to describe the skills you've learnt through hobbies, that's ideal. What did they teach you? This section can be a great way to show off skills that you've picked up outside of the office.
 As mentioned, this section is optional because if you don't have hobbies that relate to your career then adding lines like 'I love socialising' or 'I'm always out and about' aren't valuable. These kinds of hobbies don't give a great impression and can seem a little lazy. If in doubt, leave this section out.
It's not essential to list your references on your CV, and some job boards and career services recommend that you don't. Having third party validation is a great way to stand out and prove that you are the real deal, however you don't want to lead a recruiter towards someone who might not speak highly of you.
It's generally recommended to write 'references available on request' and leave it at that until further notice.
Where You Can Find Great UK CV Examples
It can be really difficult to write the perfect CV, so an example CV can be really helpful. There are so many CVs out there, but quality can be hard to come by. Sometimes when you're writing your CV, all you need is a bank of CV examples to find inspiration. Our CV builder and example CVs are invaluable to anyone looking to perfect their CV and offer guidance on how to construct a CV.
Be sure to use CV examples from sites that are reliable and relevant to your industry. If you're looking to perfect your CV for a certain industry, it's useful to try and find a CV example that fits the industry. It's important to create a CV that's perfect for the role you're going for, so instead of copying a CV from a generic site, look at CV examples and use a trusted CV builder to help you.
Be aware that there are lots of CV examples out there, but few are of the quality needed to land an interview and get hired. Take a look at a few of our CV examples to get an idea of what great CVs look like. Use a CV example to help you decide on the template and structure, which you can then use to create your own CV.
Get Help With Writing Your CV
Having a strong CV is the number one way to stand out to a potential employer. Writing a CV isn't easy though, which is why a product that creates and customises your CV is invaluable. Whether you're a recent graduate, or an experienced professional, our CV builder will help you create an effective CV.
Sometimes it can be as easy as tweaking the CV layout or re-wording the information on the page. Be sure to put yourself in the shoes of the employer, and try to find the key competencies that will make you hireable. Look at some of our CV examples to find inspiration. All you need to do is pick from professionally crafted designs, tell us a few things about yourself and allow us to match you with the right CV template for you.