CV Sample to Get You Hired
When you want to create a CV to get you hired, you need a document that's written in an impressive style and shows your major qualifications, skills and achievements. Before you begin writing your CV, it's extremely helpful to look at the CV Sample to Get You Hired to get hints and tips on what to include and how to format your information. The CV Sample to Get You Hired is the kind of CV that will be well received by the person in charge of recruitment for the job you're targeting, and is most likely to secure you a place at the job interviews.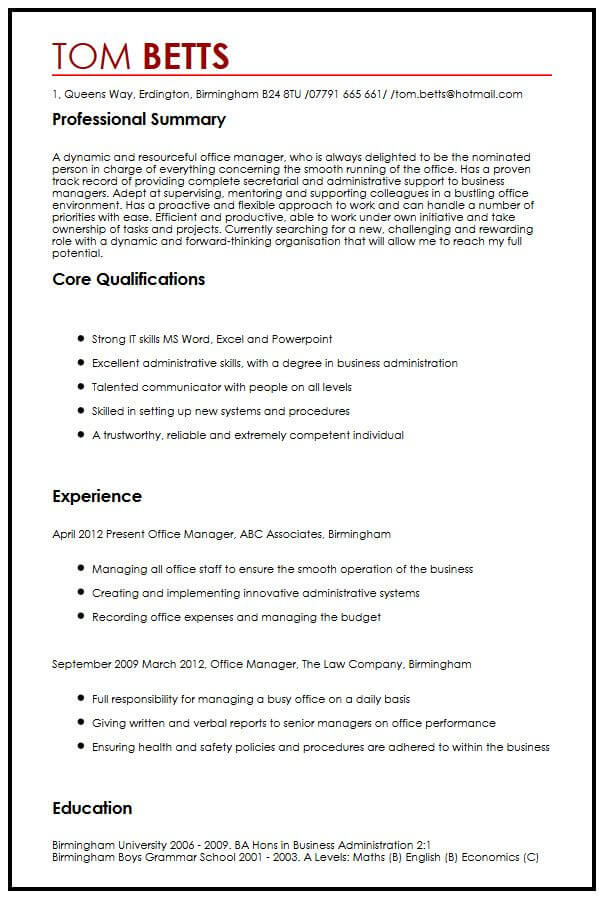 1, Queens Way, Erdington, Birmingham B24 8TU /07791 665 661/ /tom.betts@hotmail.com
Professional Summary
A dynamic and resourceful office manager, who is always delighted to be the nominated person in charge of everything concerning the smooth running of the office. Has a proven track record of providing complete secretarial and administrative support to business managers. Adept at supervising, mentoring and supporting colleagues in a bustling office environment. Has a proactive and flexible approach to work and can handle a number of priorities with ease. Efficient and productive, able to work under own initiative and take ownership of tasks and projects. Currently searching for a new, challenging and rewarding role with a dynamic and forward-thinking organisation that will allow me to reach my full potential.
Core Qualifications
Strong IT skills MS Word, Excel and Powerpoint
Excellent administrative skills, with a degree in business administration
Talented communicator with people on all levels
Skilled in setting up new systems and procedures
A trustworthy, reliable and extremely competent individual
Experience
April 2012PresentOffice Manager, ABC Associates, Birmingham
Managing all office staff to ensure the smooth operation of the business
Creating and implementing innovative administrative systems
Recording office expenses and managing the budget
September 2009March 2012, Office Manager, The Law Company, Birmingham
Full responsibility for managing a busy office on a daily basis
Giving written and verbal reports to senior managers on office performance
Ensuring health and safety policies and procedures are adhered to within the business
Education
Birmingham University 2006 - 2009. BA Hons in Business Administration 2:1Birmingham Boys Grammar School 2001 - 2003. A Levels: Maths (B) English (B) Economics (C)
Conclusion
The CV Sample to Get You Hired is a typical example of the kind of CV in our vast online collection, providing you with guidance on the CV writing process. When searching for jobs, consult our tools and CV builder for further essential guidance.